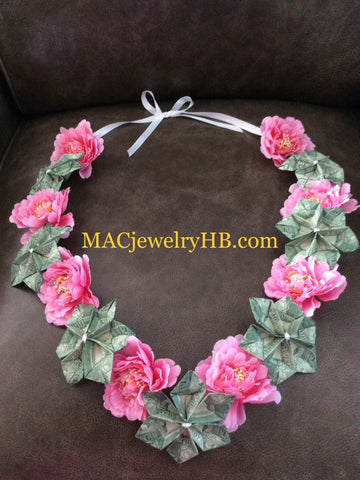 Pink Floral Money Lei
Better than flowers, more personal than gift cards, yet special and unique.  Students love to receive them, parents love to give them, and they can be cherished for years to come.  No wire is used to make the custom Lei.
As of 01-03-2023 Lead time is 4 Days shipping priority mail with or without signature. 24 hours to make and 2-3 days to ship. Earlier if shipping is not required.
As of 01-15-2023 any orders needing an express delivery, need to be called in to ensure I can be completed and deliver by dates needed.  We do have pre-made lei's ready to ship. 
The $1.00 & $2.00 Bills used in the leis are uncirculated clean bills and all parts of the lei are latex free. No staples or wires are used to make the leis.
Due to COVID restrictions there is a short supply of uncirculated bills. If for any reason we run out of uncirculated $1.00 or $2.00 bills you will be notified immediately. 
Handmade item
Materials: Real money, Ribbon, Kukui Nuts (hand painted), tape.
Only shipped within US.
Ribbon used is White. If you would like to change the color of the ribbon,  it will be an additional $5.00 fee. 
 *** If you need a Lei sooner than the normal lead time please send an email or contact MAC JEWELRY to see if we can accommodate. Lei's are being made daily for the Graduation Season. 
*** If you would like to add a larger Bill to your Graduation Lei go to search and type in "Add a $" and you can select which denomination you would like to add to the Lei.
***Due to the nature of Lei making and using real money, I will not accept returns or give refunds on the Lei's, once they have shipped out. Cancelations are accepted only if your lei has not shipped. 
You will have a tracking # for USPS.
*****If you need a last minute lei or have any questions, please call/text (714)390-4029 or Email:  Macjewelryhb@aol.com
---
We Also Recommend